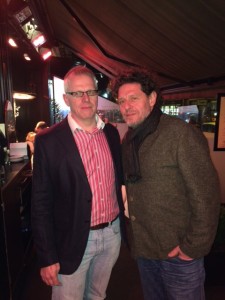 As I mentioned over on My Facebook Page, I recently attended Marco Pierre White's book signing at his Steakhouse & Grill on Dawson Street, Dublin. I was delighted to have the chance to spend a few moments with the man himself, discussing food and in particular his love of Irish Beef!
Marco's menu is traditional, hearty fare with an impressive variety of steaks of different sizes, all prepared and served in different ways. I am delighted to report that the portions are of a good size too, so guests (myself included) are very well fed. (You didn't really expect me to attend a book signing and not eat there did you?)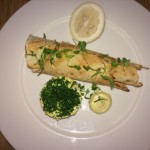 To start, I had a lovely timbale of crab with a crispy pancake and horseradish mayonnaise. For main I had a rare (very rare) fillet served with béarnaise sauce and chunky chips. Finally, for dessert I tried something that I had never tried before – bread and butter pudding! Let's just say that it was good enough to inspire me to cook up some of my very own at home the following day! I can also recommend their coffee – a great finish.
Naturally, my evening out was not cheap. Let's just say that the price of a dinner for two would have fed around 20 people at one of my own client's functions! Nevertheless, as a chef myself, it was a lovely and inspiring experience.