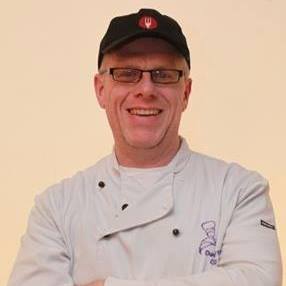 David Smyth has more than twenty years of formal experience in catering and hospitality bit cooking has always been a passion of his!
Having grown up in the heart of Ireland on a mixed produce farm, David picked up a knowledge and love for cooking from his grandmother, parents and god mother. David used to stay with his grandmother in her later years to mind her but the minding usually consisted of eating lovely home-made coffee cake or madeira cake with apricot jam and waking up to the aroma of smoky bacon, poached eggs and home-made brown bread!
David had two brothers who were involved in running the farm and during the summer months and weekends when their mother was not around, he would always volunteer to do the cooking. Later on, David went to catering college and had placements in Ireland and France to build up his experience. Since then he has held positions in some of Ireland's finest hotels, including The Glendalough Hotel in County Wicklow and the prestigious Mount Juliet Hotel in Kilkenny.
Since launching his own catering business, David Smyth has catered for many events across the breadth of the Irish midlands and his reputation has – to this point – grown through word of mouth.