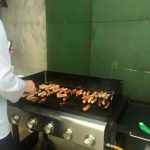 Whether friends and family or colleagues and clients – the relaxed atmosphere of a barbecue with the inviting aroma of alfresco cooking is a great way to strip away tensions and encourage guests to relax and enjoy themselves.
So why should you worry about the supplies, the cooking and the washing up when the professionals can look after all of that for you and allow you to enjoy the barbecue and mingle with your guests?
Let David Smyth Catering look after your barbecue!
We can provide:
The equipment
The cutlery, crockery and tableware
THE FOOD!
Dressings and salads
Wine and minerals
One thing we cannot do is control the weather, but that only adds to the fun!
Contact us today to discuss the options available for your occasion.