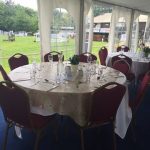 David Smyth Catering can prepare a balanced and nutritious lunch or a bespoke dinner menu for your forthcoming special occasion. We can also provide the service and everything else you need to hit the right notes.
Whether you wish to create a casual dining event for friends, family or business associates or something a little more lavish more your wedding guests, the food offering for each occasion will be decided after a full, personal consultation.
Please contact us on 087 270 9646 or drop us a line for further details.