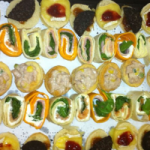 Canapé & finger food platters are an effective way of offering invited guests high quality light refreshments "on the go".
Perfect for home and office parties, product launches, exhibition openings and even as wedding reception appetisers – we can tailor a sweet or savoury finger food selection to your individual requirements.
Canapé & Finger Food Platters From €6 Per Person
David Smyth Catering can provide a delicious selection of "nibbles" for your occasion from as little as €6 per person.
We can offer tempting hot or cold platters with bite size treats, filled sandwiches, vol au vents and wraps as well as the traditional favourites such as cocktail sausages and spring rolls.
Freshly brewed teas, filter coffees, fruit juices and a selection of wines can also be arranged on request. Please contact us for a detailed quote.
Savoury Canapés
Smoked Salmon Wrap with Cream Cheese & Rocket
Baked Brie with Cranberry
Curried Prawn Cream Cheese
Clonakilty Black Pudding with Onion Marmalade
Vol Au Vents with Chicken & Mushroom
Vol Au Vents with Salmon
Curried Vegetable Vol Au Vents
Baked Ham Wrap with Tomato Relish & Lettuce Leaves
Paté Fingers
Smoked Salmon on Brown Bread
Goats Cheese Bites
Sweet Canapés
Chocolate Butter Shortbread Scones with Jam & Cream
Mini Carrot Cakes
Raspberry Meringues
Chocolate Chip Cookies
Chocolate Biscuit Cake
Mini Viennese
Mini Lemon Cakes
Raspberry Buns
Chocolate Brownies
Finger Food
Chicken Goujons, Cocktail Sausages, Various Filled Sandwiches to include Curried Chicken, Honey Baked Ham, Egg, Salad & Cheese