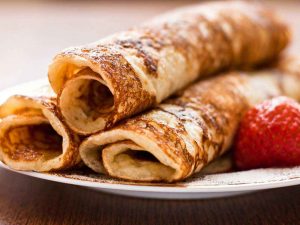 Tuesday 28th February is Pancake Day and I will be be serving up pancakes with a variety of fillings to some of my corporate clients to raise funds for charity!
Ahead of the day, here's a simple guide to making your own pancakes at home.
100g plain flour
2 eggs
300ml semi-skimmed milk
1 tbsp sunflower or vegetable oil (plus a little extra for frying)
pinch salt
Add the flour and a pinch of salt to a large mixing bowl and make a well in the centre.
To the well created, add the eggs and about 50ml of the milk and 1 tbsp oil.
Start whisking from the centre, gradually mixing the flour into the eggs, milk and oil.
Beat until you have a smooth, thick paste.
Keep on whisking as you add the remaining milk until you have a batter that is the consistency of slightly thick single cream.
Heat your pan over a moderate heat before wiping it with some oiled kitchen paper.
Gently ladle some batter into the pan, tilting the pan to move the mixture around an creating a thin and even layer.
Leave this to cook for about 30 secs. If the pan is the right temperature, the pancake should now be golden underneath and ready to turn.
Holding the pan handle, ease a fish slice or spatula under the pancake and then quickly lift and flip it over. Make sure the pancake is lying FLAT in the pan and cook for another 30 secs before turning out onto a warm plate.
Repeat the above steps with the rest of the batter.
Serve with the filling of your choice!