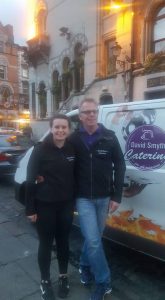 Yesterday (16th May) Emma and myself headed off to Dublin with some grub to meet with A Lending Hand and their organiser Keira Gill to feed some of the homeless.
The work that Keira and her crew do is incredible! Each and every Monday they feed as many as 200 people so you can imagine all the effort that goes on behind the scenes as well as serving the homeless in hail, rain or snow under shelter of the central bank – which is somewhat ironic.
We were also taken back by how grateful these men and women were but saddened to see that A Lending Hand did not have the facilities to serve food to the homeless on any other day of the week – no hot boxes, shaffing units or containers. All they had was a single camping gas cooker.
Maybe you guys know a company or an individual who may willing to donate a couple of hundred euros that would go long way towards providing the basic equipment required? They also have an account Dan O'Brien's Butcher in Northside shopping centre if anyone wants to donate money for their weekly meat costs.
Well tonight was an eye opener !! It came in waves of people,waves after waves !

I've been doing this nearly 2 years now and thought I had met every walk of life but tonight we met an ex solider!!! Yes he was an Irish army man, a peace keeper and what does he receive in return a burned out tent in the mountains!! Shocking !!! He was reduced to tears a grown hard ass man reduced to tears by the miserable failure of our horrid system !!! He had everything he owned burned ! He chooses to live in the mountains Coz it's safer than hostels he's currently waiting to be housed but keeps being met with red tape ? I wonder if all them people that sat behind desks walked half a mile in their shoes , would they treat them with such disrespect and disregard as a human , I Mean come on its not your house your giving away !!! Its the states !!! a house which every citizen is entitled to ESPECIALLY when your an ex army man !!! DISGUSTING !!! I'M FUMING!!!

Thanks to the quick thinking Cathy who had a tent we flew bk to Coolock and got him a tent , blankets , sleeping bag and lots of grub to take away to hopefully survive another night in this shit conditions !! ?

HUGE thanks to David and his gorgeous daughter Emma who drove up from Westmeath with over 100 portions of rice and curry and lovely deserts and coke cola ? we were so grateful and as you could tell by the smiles and compliments so we're our pals ? To the fantastic scouts in swords and there leader Annemarie for making a mean chilli beef and the fab clothes we really appreciate your support every week ?the kids are a credit ?

To Sharon, Sabrina,Eithne,Liz Fiona,Lisa Tom and Carmel for the amazing lunch packs ?Eva , Bernie and anyone else that dropped food or clothes in tonight they were very welcomed and flew out ? Our fantastic team of individuals who go above and beyond a special thanks to Agnus Cathy, Mick and Noleen and Noel in the vincent de paul in Coolock for collecting all there cents and buying fresh underwear and toiletries your all so thoughtful ?? And the rest of the amazing individuals who dedicate their time and energy every week into helping others in hard times ? Ashley, Claire, Brian, Susan, Karl, Aine, Ally, Alison, Ciara, Mick Cathy Agnus ,Noleen, Suzanne good to see ya back hun, Ciaran and Gareth thank you all love seeing yas every week ? thanks so much ? ?Help where ya can It costs nothing you never know when you may need a hand ? ??Keira ??
Helping to feed the homeless in Dublin, May 2016

Helping to feed the homeless in Dublin, May 2016

Helping to feed the homeless in Dublin, May 2016
Helping to feed the homeless in Dublin, May 2016
Helping to feed the homeless in Dublin, May 2016
Helping to feed the homeless in Dublin, May 2016