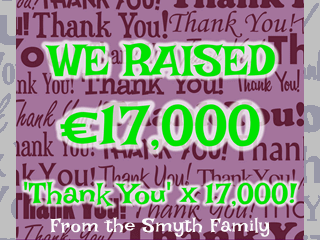 The Smyth family would like to say a massive THANK YOU to the very hard working staff and stewards on the day, all who helped erect marquees and provided entertainment and especially to you for the great support we received, before, during and after the event.
An event like this only works with the very generous support from each and everyone who attended despite the weather on the day and a special mention of APPRECIATION must go to the car park stewards who got wet on more than occasion but yet managed to keep everything moving.
As a family we paid all costs associated with the event so 100% of all donations received will be divided between North Westmeath Hospice, the LARCC Cancer Support Centre and the Irish Cancer Society.
The figure right now is €17,000 and there's still more to come!
17,000 "thank yous" to you all from the Smyth Family!