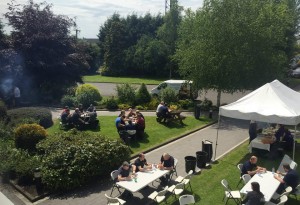 Hard to believe that we're nearly half way through August! The weather has left a bit to be desired this year but the summer barbecues and the house parties have carried on anyway!
I thought it might be nice to share some shots of the places (and the food!) I have served so far. Remember that I can prepare a summer barbecue for your event with a menu to suit the occasion. This year I have prepared the traditional favourites (burgers, sausages and chicken) alongside more adventurous dishes including Sweet chilli and soy chicken, seasoned steaks, teriyaki salmon and Chinese jumbo prawns!
All my barbecue options are accompanied by a salad selection (including Caesar potato salad, coleslaw, curried rice, oriental noodles, coleslaw, broccoli and cauliflower Cous Cous) a selection of dressings and breads.
There IS still time, so to discuss arrangements for your summer barbecue, please give me a call on 087 2709646 or 044 966 8456.
Summer Barbecues by David Smyth Catering

Farmfest at Causey Farm – June 2015
Farmfest at Causey Farm – June 2015

Party catering at A Victorian Escapade, Mullingar in June 2015

Party catering at A Victorian Escapade, Mullingar in June 2015


House Party Barbecue in July 2015

House Party Barbecue in July 2015